Home | My Stuff | About | Contact | Guestbook
Welcome to Austen's Awesome Web Page!!

There's nothing here at the moment, but there will be soon!
Here's a dancing baby to keep you entertained in the meantime.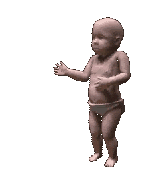 You are visitor number:
Don't forget to sign the guestbook!
© Copyright 2021 Austen C. All rights reserved.